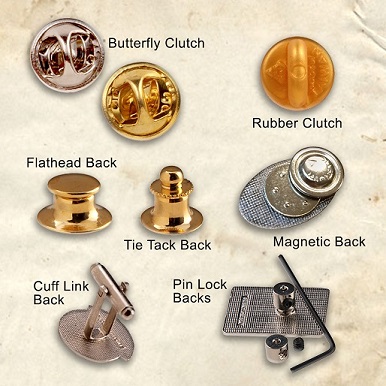 Have you ever received a pin for participation or as an award? That pin most likely included a traditional butterfly clutch that slides on the post and securely holds your pin. The butterfly clutch is widely considered the tried and true pin fastener. The standard rubber clutch is almost as universally known as a simple secure choice. You might not realize that several additional options exist beyond these two standards.
The flat head clutch and tie tack back options are an upgrade that you might select in a more formal setting when the pin will be worn on an actual lapel of a suit jacket or uniform. Both backing options should be considered if you are looking for a pin back that is equally visually appealing and secure.
The heavy-duty magnet pictured above is a great choice to avoid having a post go through fabric. A magnet will also hold the pin in the desired position with no spinning or tilting. The particular magnet shown here only works on certain pin sizes; there are other magnet options available depending on the design of the pin.
Pin locks are for all the pin enthusiast out there that like to display a collection in various ways like a hat, vest, or bag. Pin collectors rejoice because a secured pin lock isn't going anywhere - it uses a small set-screw to hold the post firmly in place. Display that collection without worry.
With all these new options to explore, your mind is about to be blown. There are also some way out-of-the-box options. Did you know a cufflink can be just a pin with a different backing? Yes, it is true! This is a great option if you're looking for something a bit more unique. In fact, we can also turn a pin design into earrings, key rings, golf tools and more, with a slight design change and a different attachment. Now that you have all this variety, which option will you choose for your custom pins? We can't wait to find out. Call or email any time for further information.